10KBW Chambers is delighted to announce that Rehana Popal was chosen as the 2019 'Barrister of the Year'. The award was presented at the First 100 Years 'Inspirational Women in Law' Awards on 19 November 2019 at a special awards ceremony at London County Hall. The Inspirational Women in Law Awards seek to identify women leaders in law, in the lead up to the centenary of the Sex Disqualification (Removal) Act 1919, which allowed women to enter into the legal and other professions for the first time.
Rehana has a thriving mixed practice, which includes Employment, Public and Human Rights Law. She regularly appears in the First-tier and Upper Tribunals and makes frequent media appearance where she is invited to comment on current legal issues.
At the ceremony, Rehana was described as a person who "consistently advocates for equal and fair treatment of disenfranchised groups in our society. This is reflected in her practice as a barrister where she shines a light on the plight of displaced people, many of whom are vulnerable women and children".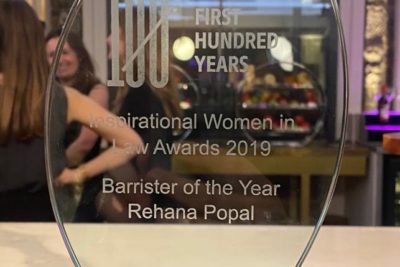 Rehana was not in the country to collect her award as she is currently in New Zealand working at Stout Street Chambers having been awarded the prestigious Pegasus Scholarship administered by The Honourable Society of the Inner Temple. Rehana is also a 2019 Social Mobility Advocate for the Bar Council.
Reacting to the news that she had won the Barrister of the Year award, Rehana Popal said:
"I am really overwhelmed. It is an honour to have won, especially on the centenary of the Sex Disqualification (Removal) Act 1919, which allowed women to enter into the legal profession for the first time. We have all come so far and made such an impact in just 100 years.
I'll begin by saying a thank you to First 100 Years. This history project is ground-breaking, creating an archive of the amazing women and their achievements since 1919. Their work will ensure, that those women who worked so hard to breakdown barriers will be remembered and continue to inspire girls for hundreds of years to come.
I want to say a particular thank you to my mother, who has been an incredible role model and, undoubtedly, the biggest reason for my success.
Another major contributor has been the Inner Temple, my inn. Without their generous scholarship, it would not have been possible for me to pursue my dream.
As a woman I am so proud of all that we have achieved in 100 years. Together to have made the world a better, a fairer place. I hope each of our journeys continue to inspire young women for generations to come.
Again, thank you."
Many Congratulations, Rehana!